WELCOME TO IMOS:
MOLECULAR SCIENCES
International master`s Program with a focus on spectroscopy and simulation


Scope of the iMOS Program
The Molecular Sciences program is a research-oriented, interdisciplinary and multicultural program held in English. The program focuses on the molecular understanding of chemical and biochemical processes. Topics are from the traditional disciplines of chemistry and physics with a focus on modern laser spectroscopy and microscopy, computer simulation, and quantum chemistry. The goal of this program is to provide you "hands on" experience in both, cutting-edge science and modern techniques, at an early stage of your career. You will learn how to develop and solve scientific questions by employing suitable theoretical and experimental methods and how to work effectively in international, multicultural and interdisciplinary teams.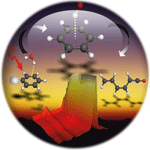 ---
FACTSHEET
subject: Molecular Sciences - International Master's Program with a Focus on Spectroscopy and Simulation
duration: 2 years
degree: Master of Science
location: Bochum, Germany
language of instruction: English
tuition fee: None
social fee: ca. 360,- Euros per semester
course start: October
email: imos at rub.de
---
More INFO
To learn more about our international Master's Program visit the
Application portal open there annually December - 15. June
To combine iMOS with a PhD, please see RESOLV's iGSS
---
Job perspectives
Statements from Industry
Eduard Schreiner (BASF - The Chemical Company):
"Proper preparation, interdisciplinary curriculum for a profound understanding of the theoretical and practical aspects of modern molecular modeling, working within a network of top universities in the world and commitment are the ingredients for success in academia and industry. IMOS offers all of these ingredients by integrating the knowledge, the experience and social networks of generations of researchers."
Nikolaj Otte (Henkel):
"Molecular Simulation allows me to contribute to applied research by providing a different angle of view than the traditional chemical disciplines. At the same time it provides me with the flexibility to study a large variety of chemically distinct and complex problems, from the reactions of small molecules to enzymatic catalysis and from polymerization kinetics to the properties of materials."
Statements from Science
Alexander Witt (postdoc at Stanford University):
"Despite sharing many fundamental principles, traditionally Chemistry and Physics classes are normally taught separately. The iMOS program is unique in the way that it brings together students from different fields to learn, and fosters connections between different research areas. This quite unique program prepares students for cutting edge research which is increasing interdisciplinary and sits at the interface between traditional fields."
Benjamin Born (postdoc at Weizmann Institute of Science):
"It is exciting to see a new generation of solvation scientists emerging. The well-established combination of a task-specific lecture series and hands-on research experience in Bochum and in selected labs abroad will be beneficial to the personal and scientific development of students of the iMOS program."