WELCOME TO RESOLV:
Explore Solvation Science
Your introduction to the field of solvation science through networking, study, and research.
We welcome Bachelor's student researchers in Bochum to begin their stay with:
The integrated Graduate School Solvation Science's week-long Summer School
Through active participation in an engaging two days of lectures by internationally renown researchers of chemistry, physics, spectroscopy, biochemistry and more, scholars will gain insight into the latest techniques and disciplines that span solvation science. Scholars will meet other researchers from around the world and at various stages of their careers. A day of career-boosting workshops follow, where scholars may meet industry professionals or fine-tune their personal skills. The week closes with a choice of an in-lab practicum where participants gain first-hand experience with new techniques. For previous year's programs, you're encouraged to explore the Summer School webpages. Tip: The advanced module pages may provide more details on the type of research students conduct in select groups.
Following the iGSS Summer School, scholars will be set up within one of RESOLV's working groups in the Ruhr area and work closely with doctoral and/or post-doctoral researchers to complete a project. Generally, these include components of spectroscopy, molecular modeling, kinetics, and synthesis, from e.g. solvent effects on catalytic cross-coupling reactions or electrocatalytic activity, supramolecular assembly design for molecular sensors, assessing phase transitions of proteins, to intro to lasers and FT-IR / THz spectroscopy. The full range of research & locations may be found on the RESOLV Scientists page and qualified applicants will work with the RESOLV Office to match with an appropriate group. Scholars will wrap up their exchange with a presentation of their work to the Solvation Scholars participants.
Scholars should attend RESOLV Colliquia organized by the iGSS and may audit lectures, for example, from the Molecular Sciences - Spectroscopy and Simulation master programme linked above. While the programme is not offered for course credit at the Ruhr Universität Bochum, we provide scholars with a detailed module outline and final grade for the project. They are then encouraged to submit this for consideration for course credit at their home institutions.
Previous Participants' Experiences
Sabrina Hu, Washington University, Saint Louis USA (participant in 2022) says:
The RESOLV undergrad research exchange program was a great opportunity for me to learn new and interesting chemical techniques I otherwise may have never gotten the chance to learn, and living abroad was an amazing experience to meet new people and get out of my comfort zone. It was a fun blend of both professional development and personal growth, and I would highly recommend it as a fulfilling summer experience.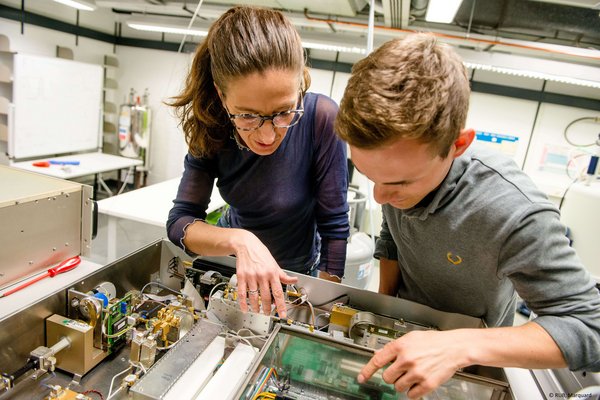 ---
Factsheet
subject: Solvation Scholars Undergraduate Exchange
duration: 2-3 months
credit: apply independently at home institution, 14 ECTS equivalent
location: Bochum, Germany and local Ruhr RESOLV partner institutions
language of instruction: English
scholarship: RESOLV sponsors travel (reimbursement) and a monthly stipend
student status: eligability as guest-student at RUB; ca. 350,- EUR fee, which covers unlimited transit ticket, language courses, meal discounts etc. Unused months reimbursable.
course start: includes Whitsuns Week Summer School (May 21 - 24, 2024); in-lab internship may fit student's schedule, e.g. May - June / June - August;
Current MSc or PhD student? Please see our Student Challenge program!
---
To Apply
Please submit an application to RESOLV at rub.de between October 15th 2023 and January 14th 2024. It is recommended to apply early, as placement may be on a rolling-basis. The application should include a:
CV with contact details and university affiliation
transcript
one-page letter of motivation related to solvation science & the research project(s) of interest.
Prerequisites: Bachelor students will have
completed at least one full year of subject specific coursework, equivalent to about 46 ETCS / 3rd Year / Juniors,
reviewed the RESOLV research groups & guidelines
Candidates will be contacted by 16. January and final decisions should be announced before the end of January.
Please note, this programme is for students who have not yet begun their Master or Doctoral degree coursework. For established collaborations with RESOLV, including MSc & PhD students, please contact us for more information. Some in-lab projects may be scheduled throughout the year.
---
A note to future Solvation Scholars
What's next?
Alexander Witt (postdoc at Stanford University):
"Despite sharing many fundamental principles, traditionally Chemistry and Physics classes are normally taught separately. The iMOS program is unique in the way that it brings together students from different fields to learn, and fosters connections between different research areas. This quite unique program prepares students for cutting edge research which is increasing interdisciplinary and sits at the interface between traditional fields."
Benjamin Born (postdoc at Weizmann Institute of Science):
"It is exciting to see a new generation of solvation scientists emerging. The well-established combination of a task-specific lecture series and hands-on research experience in Bochum and in selected labs abroad will be beneficial to the personal and scientific development of students of the iMOS program."