| Name | Affiliation | Talk Title |
| --- | --- | --- |
| Ball, Philip | Science Writer, UK | Communicating Science |
| Cho, Minhaeng | Dept. of Chemistry, Korea University, Seoul | Nonlinear Electronic and Vibrational Spectroscopic Probing of Solvation Dynamics |
| Duncan, Michael | Department of Chemistry, University of Georgia, USA | Cation solvation in clusters studied with selected-ion infrared photodissociation spectroscopy |
| Harries, Daniel | Institute of Chemistry and the Fritz Haber Research Center, The Hebrew University of Jerusalem, Israel | Solvation and depletion forces as a driving force for self-assembly |
| Lisy, James M. | Dept. of Chemistry, University of Illinois, USA | Combining Infrared Photodissociation Spectroscopy with Density Functional Theory-Molecular Dynamics; A Marriage of Experiment and Theory to Address Intermolecular Interactions Relevant to Solvation |
| Pielak, Gary J. | Dept. of Chemistry, University of North Carolina at Chapel Hill, USA | Protein Stability in Living Cells |
| Tiefenbacher, Konrad | Dept. of Chemistry, Technische Universität München, Germany | Enzyme-like catalysis in self-assembled aromatic cavities |
| Weidner, Eckhard | Dept. of Process Technology, RUB | Career Opportunities in Science and Technology |
INSIGHT COURSES
Three Insight Courses were held in the afternoon that offered an overview of the research done and methods used in the 3 main Research Areas of RESOLV. Each student attended 2 out of 3 courses, which did not coincide with his/her own Research Area.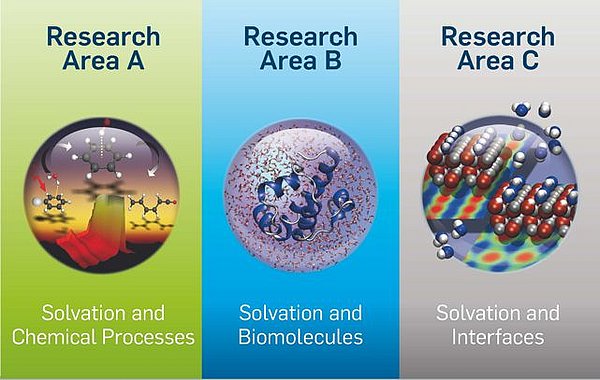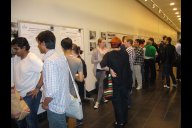 In the evening the students got chance to talk to each other and to the invited speakers in an informal atmosphere during dinner and a poster session.
12TH AND 13TH OF JUNE
ADVANCED LABORATORY MODULES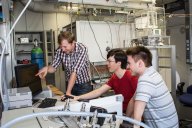 All students got the opportunity to learn new experimental and theoretical techniques by spending these days in two different labs at the RUB and RESOLV's other participating institutes.
---
---
SUMMER SCHOOL REPORT AND PHOTOS
The first GSS Summer School was a great success! We had the pleasure to welcome more than 60 participants in RUB Conference Center.