The International Faculty (IF) Solvation Science is an international network of top institutions reaching from the US to Europe and Asia, whose aim is to foster long-term scientific collaborations. It is a strategic key element to promote the exchange of knowledge, people, and ideas between leading scientists at all levels of their scientific careers in the field of Solvation Science.
Currently, the IF comprises more than 20 leading institutions in the field of Solvation Science.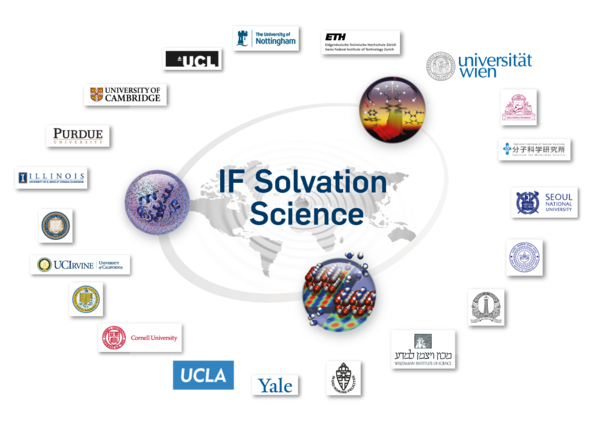 Selected scientists get the opportunity to become an IF fellow to stimulate long-term scientific exchange, on-site visits and collaboration. The IF fellows are also involved in teaching activities at RUB such as the international Master program "Molecular Sciences - Spectroscopy and Simulation" (iMOS).
For example, Prof. Dr. James Lisy was a teacher for the iMOS students in the winter term 2011/12. Jim Lisy: "As a professor from the United States, I have been extremely fortunate to be a visiting professor at a number of universities on four continents. Yet, these occasions rarely offered the chance to give lectures to an international collection of Master Degree students. I was very excited about the iMOS program and strongly believe in the international component of education, as leading edge science has become an interactive, global enterprise. The iMOS students have an amazing opportunity, at such an early stage in their scientific careers, to participate in this unique world-wide program, developed at RUB."
List of IF fellows:

Prof. Dr. Dor Ben-Amotz
Physical Chemistry




Prof. Dr. Mark Tuckerman
(Friedrich Wilhelm Bessel Research Award)
New York University
Theoretical Chemistry