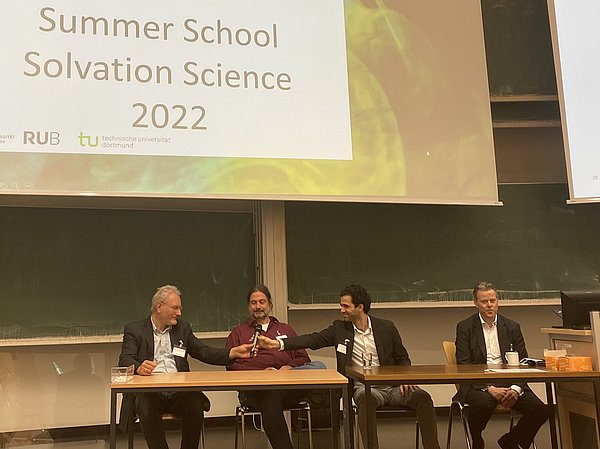 "What will I do after my graduation?" - This is a question occurs to many students at the end of their studies. To help with this question, the Career Day was held on June 9th as part of the Summer School Solvation Science 2022. For an entire afternoon, attendees were able to learn from five experts from various industries.
After a short round of introductions, the experts introduced themselves and their companies in entertaining talks. Participants appreciated the diversity of the presentations, which not only covered different industry areas, but also addressed different priorities. For example, Dr. Ralph Marquardt, Senior Vice President and General Manager Comfort & Insulation at Evonik Operations GmbH, presented the company as an attractive employer. On the other hand, Dr. Sadra Ol Gheta, Research Scientist at Bayer AG Research & Development, Pharmaceuticals, presented the steps in his own career path. He reassured, "It is quite normal when starting out not to know exactly where you are going." With his presentation, he showed how a successful start into a prosperous career can work out. Other presentations were given by Dr. Thorsten Schaefer, Manager Patents & Licenses at PROvendis GmbH and Dr. Andreas H. Göller, Principal Scientist at Bayer AG Research & Development, Pharmaceuticals.
Afterwards there was a panel discussion with all the experts. Here it became apparent how inspiring the previous presentations had been. The students enthusiastically took the opportunity to ask their questions to the experts and were pleased to receive detailed answers. From very individual concerns of the participants to general tips on application procedures, the experts were able to provide valuable advice. Even though all the experts have different backgrounds, they all agreed on one thing: "In an application, you should focus on a topic that you are particularly interested in or that you are particularly good at. Specialization is key!"
Even after the official end of the event, the students and experts exchanged experiences at the BBQ at ZEMOS. We are very pleased that the transfer between industry experts and students worked so successfully with this event.